Submitted on Thu, 2009-12-17 at 11:29 am
Tags: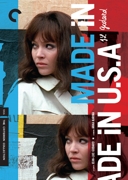 A little while back the Criterion Collection released a pair of films by Jean-Luc Godard on DVD: Made in USA (1966) and 2 or 3 Things I Know About Her (1967). The production of the two films overlapped, and they make for a fascinating study in contrasts.

After its US premiere at the 1967 New York Film Festival, Made in USA remained unseen here for forty years due to copyright litigation and financial problems with its French distributor. It's a loose—at best—adaptation of a Donald E. Westlake crime novel, but it's really a final homage to Godard's great love Anna Karina, with whom he had already broken up at this point. More than the genre trappings, what really counts are the haunting close-ups of Karina's expressive face, the proliferation of jokey film references and the explosion of color across the Cinemascope screen.

2 or 3 Things I Know About Her is a dense and poetic film-essay about a prostitute who lives in one of the newly constructed suburbs surrounding Paris. Perhaps somewhat predictably, Godard uses prostitution as a metaphor for postwar consumer society, but the film's extraordinary formal inventiveness and restless exploration of ideas make it one of his greatest works. Incidentally, the film's star Marina Vlady later married Vladimir Vysotsky, the gifted Russian actor-songwriter and counterculture figure whose premature death in 1980 sent shockwaves through Soviet society.

The Criterion Collection editions of both titles showcase their gorgeous color photography and include generous special features such as interviews with participants in the films and video essays identifying their many film and literary references. 2 or 3 Things also has an engaging commentary track by the Australian films scholar Adrian Martin. Made in USA is available in the library as DVD 12786; 2 or 3 Things is DVD 12550. Both currently have DVD-LEND copies available for checkout.
Blog Submission Guidelines